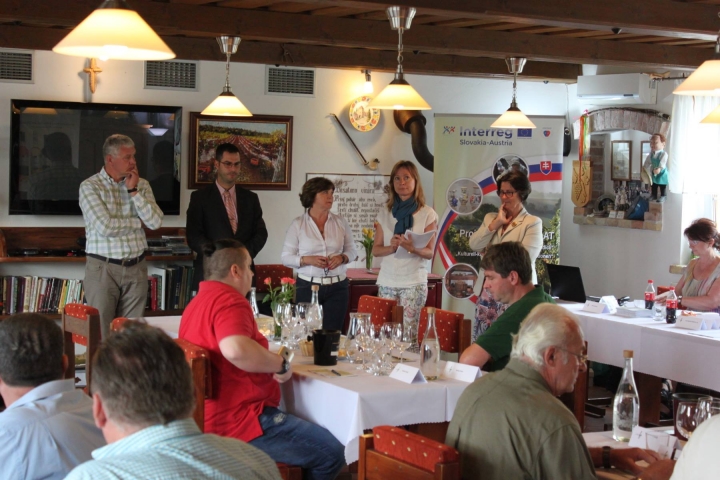 On May 30, the professional part of the tasting of 41 samples of Lemberger and Zweigelt with the participation of Slovak and Austrian tasters took place in the premises of the winery of Miroslav Duda in Modra. The Little Carpathian Clutural Centre in Modra, the Little Carpathian Wine Route and the Jedenspeigen Municipality together with the Jedenspeigen – Sierndorf Winery Association were the organizers of the tasting.
24 samples of Lemberger and 1 sample of Zweigelt from the Little Carpathian region and 15 samples of Zweigelt and 1 sample of Lemberger from Jedenspeigen – Sierndorf region met in the competition. Two evaluation committees worked under the leadership of Ing. Gabika Vojteková PhD.
The overall winner was sample number 5, Lemberger, vintage 2016, dry from Villa Vino Rača, which gained 89 points. Other gold medals won:
sample number 2, Lemberger, Villa Vino Rača, vintage 2013, selection of grapes, dry – 88,7 points
sample number 37, Zweigelt, Weingut Gassner Jedenspeigen, vintage 2015, dry – 88,5 points
sample number 29, Zweigelt, Franz Weilinger-Lowatschek Jedenspeigen, vintage 2016, dry – 88,3 points
sample number 4, Lemberger, Villa Vino Rača, vintage 2016, dry – 88 points
sample number 22, Lemberger, Víno Matyšák Pezinok, vintage 2012, selection of grapes, dry – 88 points.
The festival takes place for the third time, the first year was dedicated to Veltliner and took place in Modra, the second year was dedicated to Riesling and took place in Jedenspeigen. The next edition will be dedicated to Moscato and the imaginary relay will be taken over again by Jedenspeigen in Austria. The public tasting took place on 9 June in the courtyard of the Little Carpathian Cultural Centre in Modra from 4 pm.
The event is part of the HERITAGE SK-AT project "Cultural and Creative Revival of Traditions", which is co-financed by the Interreg V-A Cooperation Program of the Slovak Republic and Austria.